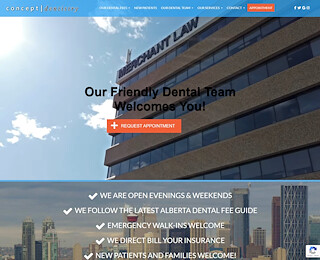 Are you worried about having dental treatment that you desperately need to have done? If you're like most people, you have a certain amount of anxiety when it comes to sitting in a dental chair. Often though, that anxiety can turn into outright fear, either from hearing horror stories about others who underwent painful procedures or even due to past experiences that are hard to get over.
Come to the
Calgary Sedation Dentist
and leave your worries outside the door. Concept Dentistry offers two types of Sedation Dentistry to help patients get through their dental treatments with reduced anxiety and confidence. You may not believe it's possible to overcome your fear of dental treatment, however with Sedation Dentistry, it's not only possible, it's an everyday reality for many patients.
Learning more about Sedation Dentistry can help make it easier to schedule a dental appointment. For example, most patients are relieved to learn that they won't be asleep but will instead experience minimal to deep sedation, depending on their needs, so that they will be awake but very relaxed. Feel free to speak with the Calgary Sedation Dentist about your personal needs to customize a sedation plan for your treatment.
Concept Dentistry uses the following types of sedation:
- Nitrous Oxide, or laughing gas, to make you feel happily drunk. Nitrous will be administered through your nose so that the dentist can work on your teeth and will make your senses dull so that you will feel less anxiety in the dentist seat. You will be in complete control of your body under Nitrous Oxide. This type of sedation begins to work very quickly and wears off just as quickly.
- Oral sedation, such as Valium or Ativan, are also used by the Calgary Sedation Dentist to dull anxiety but not induce unconsciousness. The effects of an oral sedative last much longer than those of Nitrous Oxide, so you will need someone to accompany you to and from your appointment.
You don't have to worry about the safety of sedation treatment; the staff at Concept Dentistry received special training so that they are able to administer these treatments to their patients. As well, if anxiety or fear is keeping you from having the essential dental care that you need to maintain good oral health and a beautiful smile, you should consider all of the benefits that you'll enjoy by taking advantage of Sedation Dentistry.
You can experience minimal fear and anxiety, and in many cases, none at all when you visit the Calgary Sedation Dentist at Concept Dentistry. Don't let a past negative experience keep you from enjoying excellent oral health and your brightest smile.
Speak with the Calgary Sedation Dentist about a personalized dental plan to combine all of your dental needs into one or two treatments to further alleviate your anxiety. To schedule an appointment or to take advantage of a free consultation, please call Concept Dentistry at 403-248-0301. Say goodbye to dental anxiety forever- call today.